Photography Studio Rental in Fort Lauderdale Area
Whether you've traveled the globe to take pictures for the world's largest publications or have largely been limited to capturing images with an iPhone, to project pride, prestige and power with your photos, you'll need an ultramodern studio.
Here at Color Fusion Studio (CFS), that's precisely what we provide—check out our studio's impressive features and amenities:
Studio Features and Amenities
Modern furniture
Private bathrooms
Large, open spaces
An on-site kitchenette
A friendly, skilled staff
A built-in music system
Makeup and hair stations
Plenty of parking options
An air-conditioned studio
Free, easy-to-access Wi-Fi
An incredible location (I-95 and US-1)
The helpful guidance of Eugene Belous
Basic Photo Studio Rental Rates
Hourly Shoot: $75 per hour (2-hour minimum)
Overtime: $75 per additional hour
* Note: The above rates do not include lighting or additional studio services.
Important Studio Rental Information
To book a studio session, a 50% rental deposit is required.
Deposits are non-refundable, but can easily be transferred to alternate dates.
Fees are payable via cash, credit card or PayPal.
Personal checks are not accepted, but with managerial permission, company checks are fine.
CFS studios are available for use Monday to Friday, from 9:00 am to 7:00 pm.
Holiday and weekend rentals may be accompanied by an additional cost.
Additional Studio Specifics
Three-foot, paper backdrops in almost any color (ask for samples) are included with rent.
Any smudges, tears or signs of use beyond three feet will result in a $3.50 per foot charge.
Regular studio rental allow for up to 10 people to be present in the studio.
After that, we'll charge an additional $5 per person.
Color gels, reflectors, white/black flats, grip clips, ladders and extension cords are available.
If you've got access to light, there's genuine potential to take absolutely breathtaking photos. That said, not all light is created equal. So, to elevate sub-standard lighting to where it needs to be, we provide a number of lighting packages to help you produce professional-grade images.
3 Bowens Esprit Gemini 500 Monolights
1-Set Pocket Wizard
* Note: All stands required for these lights are included.
When you opt for the Bowens Package, you gain access to 1,500 watts of high-quality lighting per second. Power is great, but control is what you're ultimately going for.
Because of this, the monolights included in this package are able to power down to a 1/32 level, making them highly suitable for use with digital cameras, should the need arise. Additionally, the 250-watt modeling lights can also be powered down with this unit's main power switch.
Providing you with even more adaptability, the modeling light can be favorably manipulated by adjusting the level of flash power. And lastly, putting you completely in the driver's seat, modeling control is made simple with one switch—choose from "Full," "Proportional" or "Off."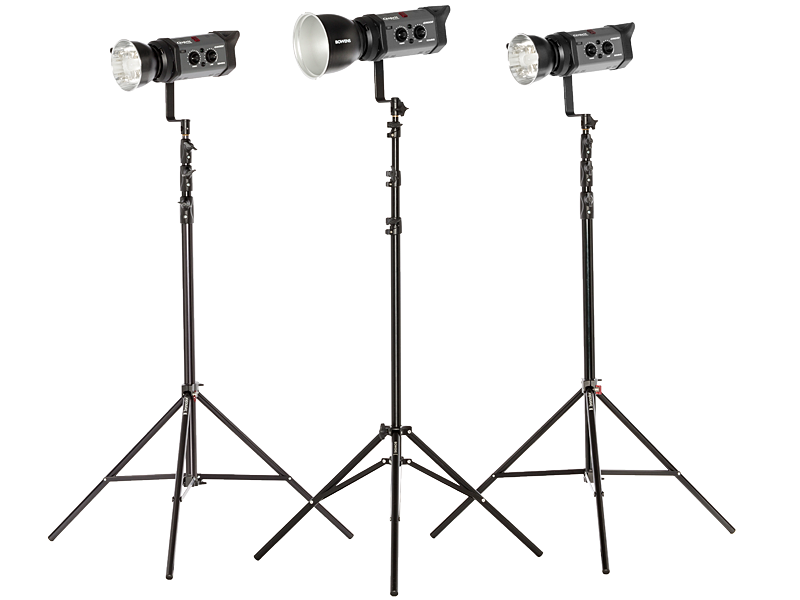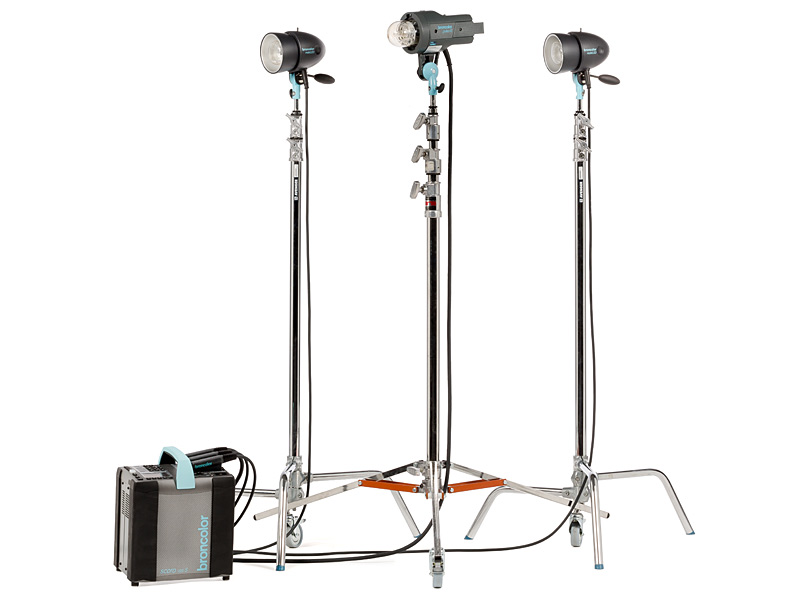 1 Broncolor PULSO G4 3200
2 Broncolor MobiLED Lamphead
1 Broncolor SCORO 1600S RFS 2
* Note: All stands required for these lights are included.
Broncolor light is a high-end light created for the most complex of shooting scenarios.
Even if you're new to photography, due to the light's stable/adjustable color temperature and short exposure time, there's a chance you've heard of it. If not, there's no need to worry—rest assured, this package provides you with more than enough lighting flexibility to capture stunning images.
1 Broncolor PULSO G4 3200
2 Broncolor MobiLED Lamphead
3 Bowens Esprit Gemini 500 Monolights
1 Broncolor SCORO 1600S RFS 2
* Note: All stands required for these lights are included.
To meet the demand's of your latest photography project, will you be having to set up a complicated lighting structure? If so, and you'll need more than three lights to make it happen, this package is your best bet. Using Broncolor lights as your main lighting source and Bowens as your secondary, you shouldn't have any issue getting the shots you need.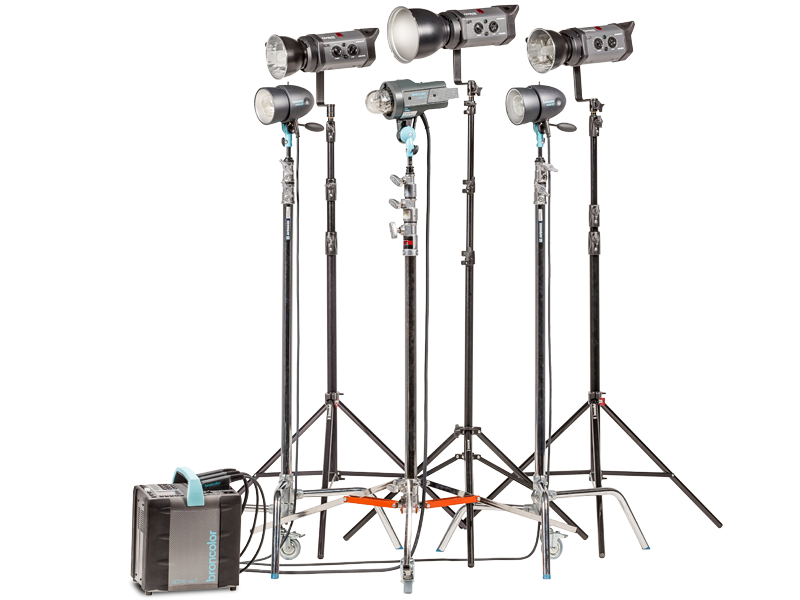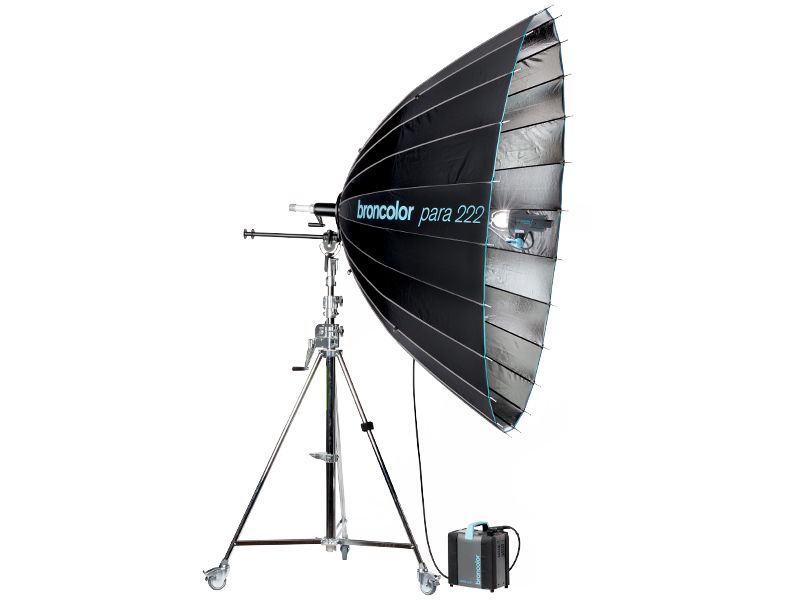 Broncolor PARA 222 Package
Broncolor PARA 222 F
Avenger Hi Crank Stand 39 with Wheels

Broncolor SCORO 1600S RFS 2
* Note: All stands required for these lights are included.
The Broncolor PARA F 222 reflectors are impressive not only because of their shape and size, but because of their unique light quality and outstanding performance. How is the PARA 222 F capable of such incredible reflection, you ask?
Truth be told, the PARA F is not a light-shaping mechanism in the conventional sense, but a full-fledged illumination system, allowing creatives to adjust the position of its lamphead and lighting angle while in use.
As such, photographers with a knack for unique lighting arrangements will find no end to new combinations and characteristics with the PARA system. Simply put, it's an inexhaustible source of inspiration and creativity.
Additionally, even at distances between five and eight meters, the PARA 222 2F is more than large enough to produce typical PARA-light power. Should you need to tone things down a bit, though, it can be completely defocused, while still offering high-quality lighting characteristics.
Although it does become spot-like (harder) at greater distances, it still maintains the entire spectrum of variation more readily available at shorter distances.
Lastly, and perhaps best of all, the light produced by the PARA 222 F is best described as "effortless." In all seriousness, it's borderline impossible to take a bad shot with the 222 F on your side. If your specialty involves shooting portraits or model tests, in no time at all, you'll be able to capture countless high-quality images, requiring little post-processing.